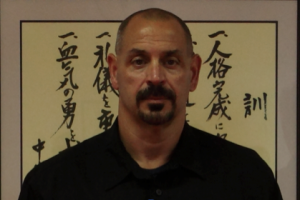 Owner Bryan LaBrecque began his martial training in 1967.  Over that time he has studied many different styles, attaining 7th degree black belts in Karate, Jujutsu, and classical weapons.  He has also earned the rank of 6th degree in Tae Kwon Do and a first degree in Judo.
In 1979 Mr. LaBrecque entered U.S. Air force as a security specialist and was stationed at Davis Monthan AFB in Tucson, AZ.  While stationed there he was a member of the SWAT Team, and Air Base Ground Defense.
In 1980 he began training and competing internationally with Johnny Linebarger, 5 time USKA World Champion and founder of Kosho Karate Dojo's.
In 1990 Mr. LaBrecque also began training with Dr. Mike Dunphy who was Team Captain for the U.S. Jujutsu federation.
In 1999 Dr. Dunphy introduced him to John Viol Shihan, Menkyo Kaiden United States Rep. All Japan Sogobujutsu federation.  Viol Shihan was also the 3 time All Japan full-contact bare knuckle champion.  At this time Mr. LaBrecque began his Martial Science Studies.  In July 2009 he received his Level III Instruction grade from the International Martial Sciences federation.  In June 2012 he received his Shidoin (Instructor License) from the International Sogobujutsu federation.
On August 21st, 2016, after two years of intensive physical training Mr. LaBrecque received his Jokyo license. He is one of only twenty people to have received this license in the United States.
Chief Instructors at Kosho are Richard Caron Shidoin and Gerald Bernier Shidoin.  Both are veterans of the U.S. Army.  Mr. LaBrecque, Mr. Caron, and Mr. Bernier are the only licensed instructors in the state.  The three are also licensed U.S. Martial Tactical instructors along with Roger Remillard.